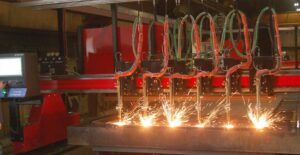 Plasma Technologies can assist with a Complete Plasma (oxy fuel) Retrofit System for your machine and get you cutting faster than others. Our reliable systems are available for anyone wanting to retrofit a cutting machine, without adding manufacturing time or increased overhead. We'll build a plug and play system to your specifications which can be easily installed on
your cutting machine. Our Retrofit packages include AC Drives,  Operators CNC Stations, Motors, Gear Boxes, Cables, Hypertherm Sensor - THC plasma lifter, installation guide etc...   If your machine only has oxy fuel torches we can put together a complete system built to your machines needs.  Plasma Technologies can supply you with everything, or just the components you need. Our systems are all backed by Plasma Technologies excellent service, which gives you and your customers peace of mind.

Need Help Selecting the Right Product?
Contact us today!