Plasma Technologies CNC Drive Packages with optional Operators Stations.
Plasma Technologies is your one stop shop for cutting machine Retr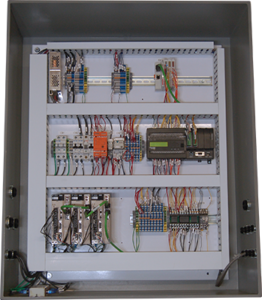 ofits.  We specialize in Analog / Digital AC Servo drive systems, and Operators Stations that compliment any cutting machine rebuild.  Plasma Technologies works with all levels of customers from the OEM's to our end users.
Edge Connect is Hypertherm's newest product line which uses high speed, digital EtherCAT technology to replace the Analog Edge Pro products.  The challenge is the older Hypertherm analog drives and peripheral products are not compatible with the new Digital EtherCAT Technology. Hypertherm is not currently selling AC Servo drives for the Edge Connect.  Plasma Technologies is filling this void and offering Edge Connect AC Servo drives with integrated operators stations.  We offer a wide selection of AC Servo Drives from 200 Watt CNC / Drive Combination Units (small machine drive system) to 1500 Watt AC Servo Drives for big cutting machines. *We use CSA or equivalent approved components to satisfy machine inspections CSA Model Code SPE 1000
Plasma Technologies sta
ndard drives offer flexibility to fit any type of machine you have for a cost effective price.  If your cutting machine has plasma and/or oxy fuel stations,  we can build a drive to suit your machine's needs.
If you or a customer are thinking about upgrading your aging cutting machine and not sure what products would work for you, give Plasma Technologies a call.

Need Help Selecting the Right Product?
Contact us today!