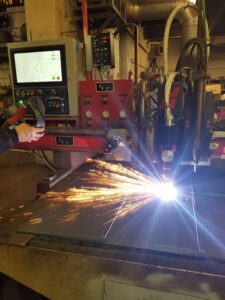 Are you an HVAC contractor or Fabricator who has a small cutting machine that needs an upgrade?  Can't afford downtime on this machine?  We can help!
Plasma Technologies PT A100 includes 200 Watt digital drives, CNC (Hypertherm Edge Connect) and Operators station all in one.  These are perfect for Aging Lockformer, Cybermation, C&G, MultiCam and all other small (6x12 or 5x10) 2 & 3 Axis cutting machines.    These are typically used by HVAC Contractors and Small / Medium Fabrication Shops.  Our drive packages include everything needed to upgrade your machine so it runs like new.
While our Combo Unit replaces the discontinued Hypertherm Edge Pro TI we offer other options including a 400 Watt integrated Pedestal with CNC, Drives and Operators station. Plasma Technologies offers competitive pricing and options to fit your machine.  Call us about upgrading/retrofiting your machine today!
If your machine is showing its age, and needs a cost effective solution without purchasing a complete new system, we are here to help.  If you can't afford unscheduled downtime, plan on retrofitting before disaster strikes.
Need Help Selecting the Right Product?
Contact us today!
[/mp_span] [/mp_row]